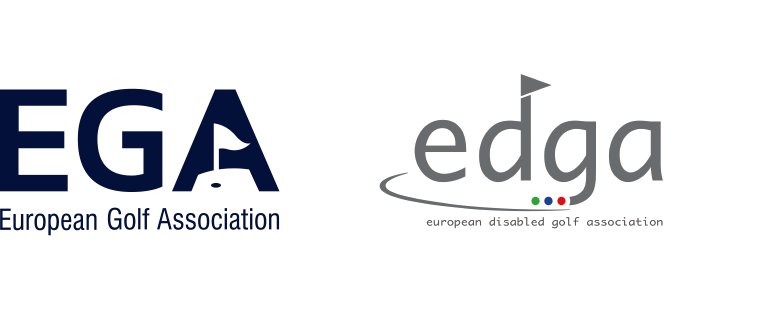 The EGA is proud to announce the signing of a Memorandum of Understanding with the European Disabled Golf Association (EDGA).
The 2017 EGA Calendar will now include The European Team Championship for Golfers with Disability, which will take place from 29 June to 1 July 2017 at Quinta do Lago (South Course) in Portugal.
As a European organisation founded in 2000, EDGA is uniquely positioned to support the development of initiatives which promote the development of golf for individuals with impairment across Europe, positively influence public perception and offer meaningful and relevant advice to golf's governing authorities.
EDGA helps individuals with impairment to start, stay, succeed and enjoy golf and advises and guides organisations on tournaments, training and services to golfers with disability.
The EGA is very happy to further support EDGA's invaluable work with the objective to:
help encourage more individuals with impairment to experiment with golf as a possible sporting option;
encourage golf's major authorities and national governing bodies to further embrace the disabled and take responsibility for golfers with disability; and
gain acceptance from the International Paralympic Committee that golf be included in the Paralympics.
The inclusion of The European Championship for Golfers with Disability in the scope of EGA's work will help to further break existing barriers and increase the acceptance of disabled golf as important part of the game. EGA General Secretary Richard Heath said:
"The EGA is delighted to have been offered the opportunity to cooperate with the European Disabled Golfers Association (EDGA) and to introduce their main tournament into our stable of European title championships. The competing players are eligible for this championship as they meet a strict set of 'Definitions of Impairment', which are validated by the 20 National Governing Bodies that constitute the EDGA. The EGA wishes to acknowledge the players' golfing achievements in the same way that we recognise any other category of European title."
"EDGA is delighted that the EGA have seen fit to take such a positive step towards the recognition of golf for the disabled", said Pieter van Duijn, Vice President of EDGA. "To have the EGA include The European Championship for Golfers with Disability, on their official calendar of events is an important step, a step that we have been working towards for several years. With an application for the 2024 Paralympics on the horizon, the signing of this agreement with the EGA has come at just the right time to demonstrate alignment of the the sports governance."
The European Championship for Golfers with Disability is held on an annual basis with the format changing between a team and individual competition every year. With the European Team Championship taking place in 2017, the first European Individual Championship for Golfers with Disability will take place under the EGA's supervision in 2018.
For further information, please contact:
European Golf Association (EGA)
+41 21 785 70 60
or
European Disabled Golf Association (EDGA)
+420 778 088 864