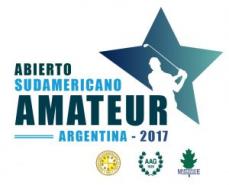 Martindale Country Club, Buenos Aires, Argentina. The 2017 South American Amateur Championships were played from Thursday, 19 January, to Sunday 22 January last week.
Costa Rica's Paul Chaplet, who played in the 2016 Masters at Augusta National after winning last year's Latin American Amateur Championship, started successfully into the new year by claiming the 2017 South American Amateur men's title. With rounds of 69, 70, 66, 69 and a total of 274 strokes, he placed first, two strokes ahead of Chile's Joaquin Niemann. Wales' Jack Davidson, the best-placed European in the field, claimed third on 278 with rounds of 74, 67, 69 and 68.
In the women's event, Mexican Isabella Fierro dominated the field. With rounds of 68, 71, 67, 68 and a total of 274 strokes, she took first place 10 shots ahead of American Meghan Helene Stasi. The best European result was recorded by Wales' Bethan Morris who placed tied fourth with rounds of 72, 74, 71, 68 for 285.
The winners, men's and women's, will gain automatic access into the European Amateur Championships being played at Walton Heath GC, England, and GC de Lausanne, Switzerland, respectively, later this year.


About the South American Amateur Championships
The Individual South American Amateur Golf Championship began in Guayaquil in 2006 as match play. After four years of success, the championship was extended to more amateur players from other regions and the game format changed to 72-hole stroke play.
The calendar requires that the host course should rotate between all South American countries and preferably be completed during the first quarter of the year.
The tournament field consists of two categories, men and women amateur players from each of the South American Golf Federation's affiliated institutions , and invited players who meet Amateur Status requirements of R&A Ltd.
Martindale Country Club opened in 1989 and is a beautiful and well-presented modern parkland layout.
The 2017 starting field consisted of 123 players, 72 men and 51 women. 22 players, who also played in the Latin American Amateur Championship (LAAC) in Panama the week before including Chile's Toto Gana, the 2017 LAAC champion, and Paul Chaplet who won the LAAC last year.
Also in the field were Scott Harvey, a 2015 US Walker Cup player who won the men's event in Peru two years ago, and Paraguay's Sofia Garcia who won the women's event in both 2015 and 2016.
The R&A has contributed £25k towards this event and subsidised the participation of 30 players, including 16 from Great Britain and Ireland.