Serbia have won the European Ladies' Team Shield Championship at Riverside Golf Zagreb.
In the first ever EGA event hosted in Croatia, the Serbian team, playing in the final of the event for the first time, came up against 2016 runners-up, Latvia.
In a very tight foursomes match, that was all-square after 18 holes, Jana Marinovic and Jelena Lainovic secured victory with a birdie on the first extra hole of play for Serbia.
Marija Luize Jucmane won her match on the 15th green taking the score to 1-1 meaning the last singles match on the course would decide the championship.
18 holes weren't enough to seperate Jefimija Dordevic and Anna Diana Svanka meaning exta holes were also required. The Serbian player, who was three-down after nine holes and one-down on the 18th tee, would go on to win the 20th hole of the match with a 20-foot birdie putt, securing a 2-1 victory for her side, and with it the European Ladies' Team Shield title.
Poland, who were defeated by the eventual champions in the semi-finals, triumphed over Greece in the match for third place and will take home the bronze medal.
In the Men's event, played at the same venue, Croatia took on Malta in the gold-medal match. A dominant 6&5 win from Lovro Horvat and Adam Brnic in the foursomes match, completing a perfect match play record for the tournament for the pair, meant the hosts needed just one more point to lift the trophy.
Ivan Vucemil won his match on the 17th hole, ensuring his Croatian side would claim their first ever European Team Shield Championship title.
In the match for third place, Hungary, who lost the first foursomes match of the day, battled back to win both of the singles matches and claim a 2-1 victory over Liechtenstein.
Following the Closing Ceremony, the two champion teams joined eachother for dinner, alongside their trophies.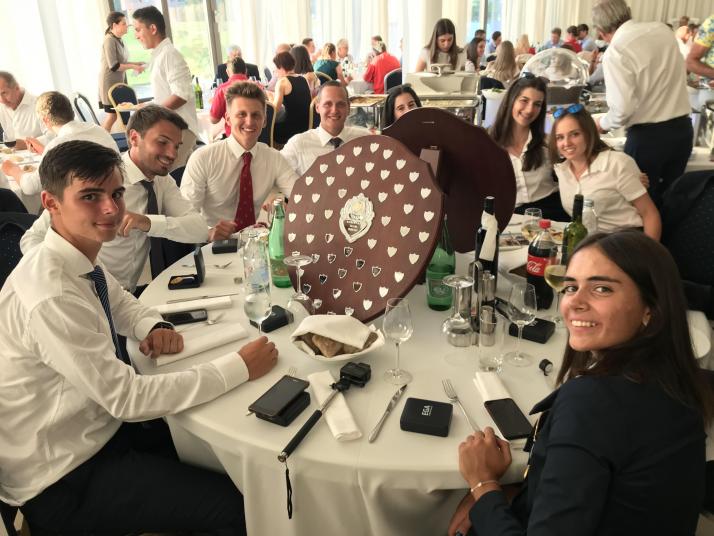 Ladies' full Flight A scores: http://scores.golfbox.dk/Shared.aspx?l=http://www.ega-golf.ch/golfbox-result-widget/0&m=t&h=/competition/1667428/teammatchscores
Men's full Flight A scores: http://scores.golfbox.dk/Shared.aspx?l=http://www.ega-golf.ch/golfbox-result-widget/0&m=t&h=/competition/1667651/teammatchscores