Turkey has successfully defended the European Ladies' Team Shield Championship in Bulgaria. They remain the only country to have won the event following its inauguration in 2016. The team of four qualified for the flight A match play with a total of 225 strokes (+9), a score that was only beaten by Latvia, on 220 strokes (+4). Anna Svanka, playing for Latvia, shot the lowest singles score of the day with 70 strokes (-2).
For the next three days, the teams played match play, one foursomes and two singles matches. Turkey beat Ukraine in the quarter-final 2 ½ - ½ and hosts, Bulgaria in the semi-final 2 - 1, to set up a match with Poland for the trophy. In the final, the teams claimed one point each from the first two matches, meaning the final singles match would decide the tie. Sena Ersoy, who shot the second lowest round on the first day with a level-par 72, won the match 3&2 to deliver the decisive point for her team. Turkey's victory was helped by Begum Yilmaz and Tugce Erden, who won all three of their foursomes matches.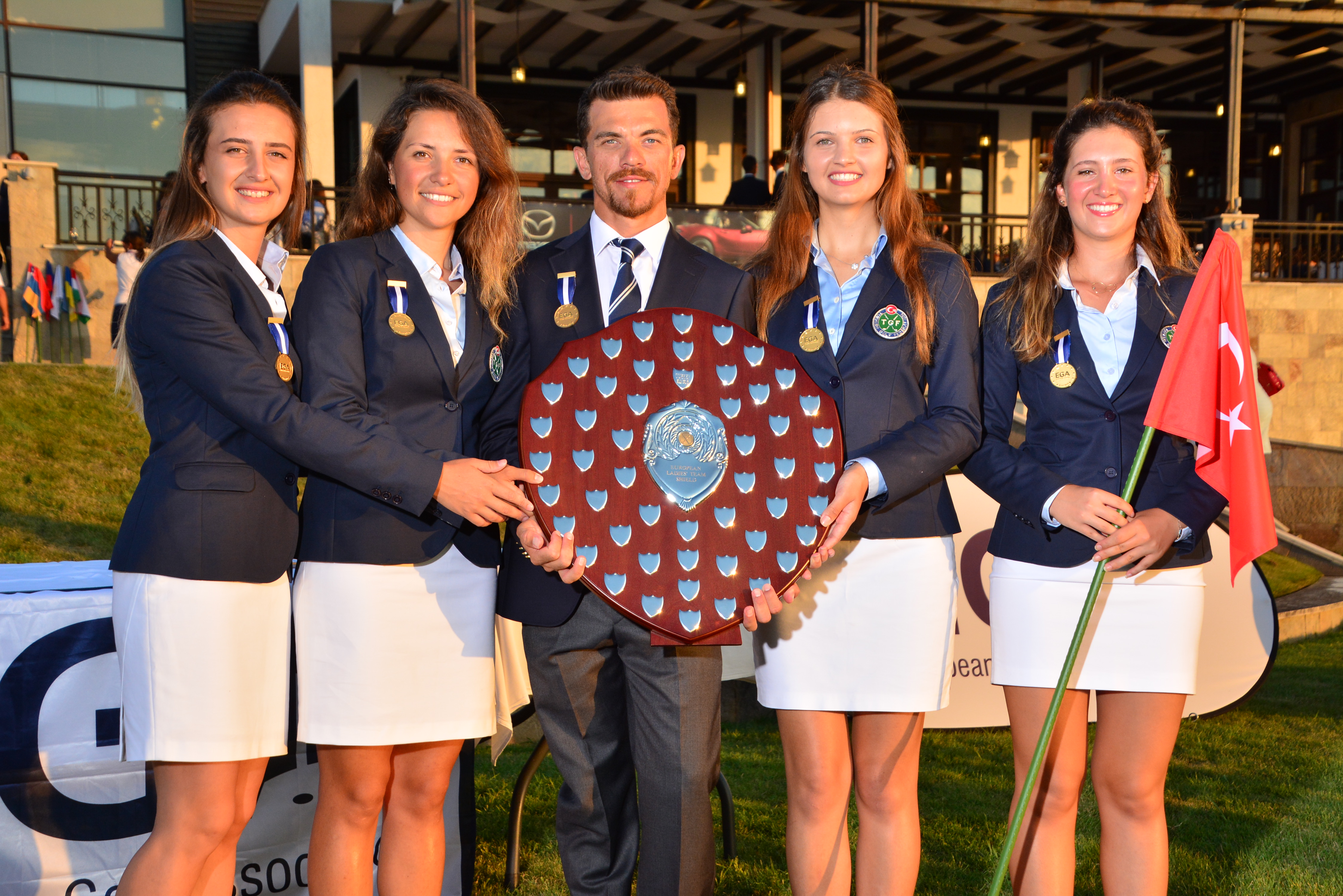 In the Men's Team Shield Championship, which was being held for the third time, Lithuania claimed victory over Turkey in the final match. The Turkish team qualified in first place for the flight A match play with two of the three lowest scores of the day, leaving them with a total of 215 strokes (-1) and the only team to finish under-par. Eventual winners, Lithuania, qualified just two strokes behind Turkey, with 217 (+1). Tanpolat Kerem shot the lowest individual score with 69 strokes (-3).
In the subsequent rounds, Lithuania beat Cyprus 3 - 0 and Malta 2 - 1 to reach the final, whilst Turkey defeated Liechtenstein and Greece. In the final, Turkey won the foursomes and Lithuania the first singles match, meaning the last match would decide the championship. Gediminas Markevicius secured the decisive point for Lithuania on the 19th hole in the country's first appearance in the event. Lithuania's victory was helped by Markevicius and his compatriot, Juozapas Budrikis, who both won all three of their singles matches over the three match play rounds. In the bronze-medal match, Latvia beat hosts Bulgaria 2 - 1. In the Bronze-medal match, Malta beat Greece 2 ½ - ½.